THE NEXT STEP IN BECOMING A HEALTHIER YOU IS THIS FREE ONLINE TRAINING!!!
5 Quick and Easy Tips Training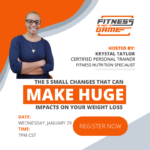 * very limited seating – only 100 seats available for this training*
You're Eating All Wrong:  
The 5 Quick Changes That Can Make HUGE Impacts on Your Weight Loss
Find out the little things you're doing to sabotage yourself in the kitchen and at the table.  Learn how to flip the switch so you can see the results you want.
Time Left Until Training...
My name is Krystal Taylor.  I would consider myself a "late bloomer" into the fitness industry.  Many trainers' resumes list their multiple degrees and certifications in all things fitness.  My history is a little different.  I actually hold business degrees in addition to my Personal Trainer Certification and Fitness Nutrition Specialization.
I didn't realize my passion for helping others become healthy until I was an adult.  Even when my purpose was revealed to me, I shied away from it.  I didn't accept it until I saw the results of the assistance I was providing my loved ones when they asked for workout and nutrition tips.  The happiness and pride I had in their progress was a feeling I hadn't experienced from any job and motivated me to learn more in order to help more.