wait… you can get started now!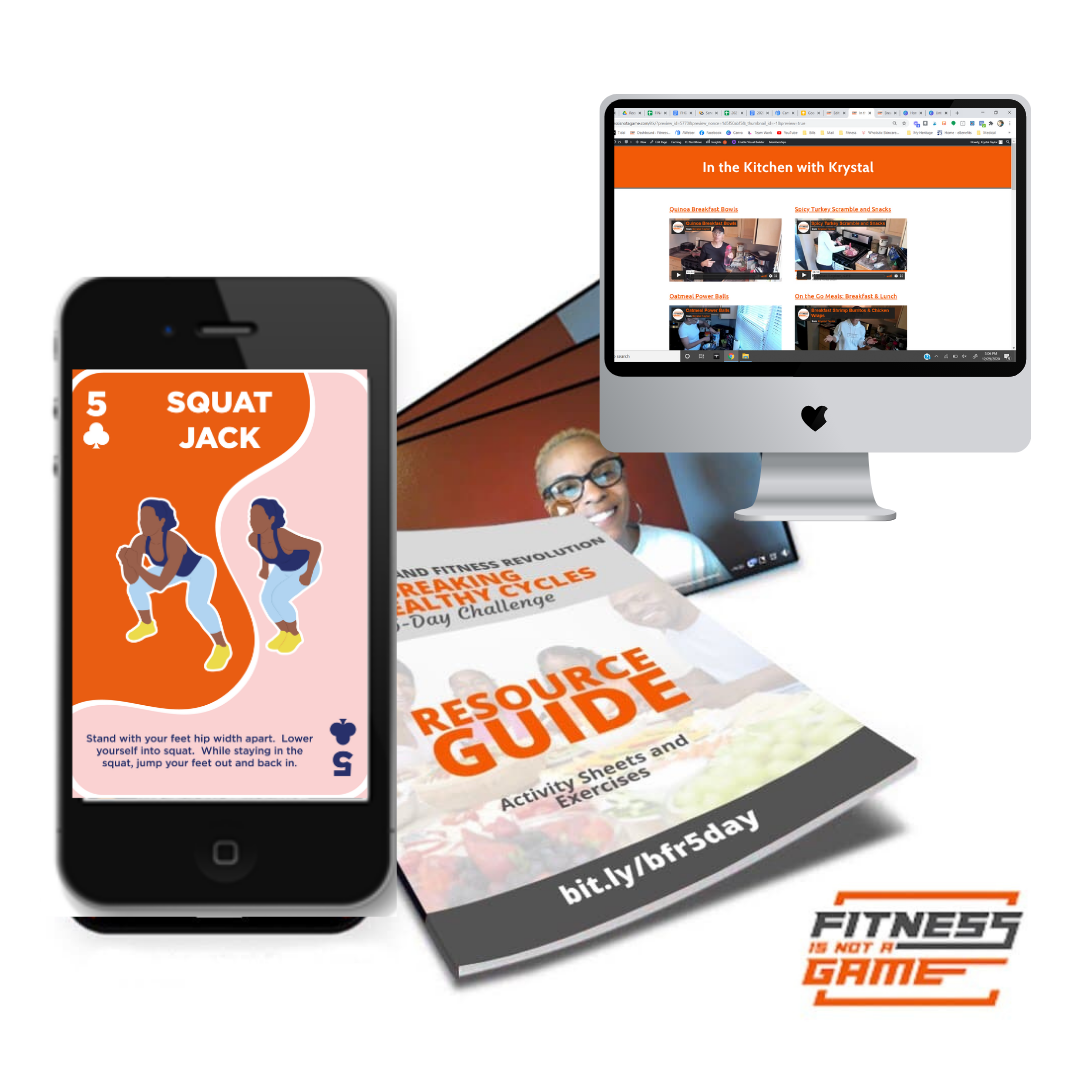 Don't worry!  You're all signed up for the challenge, but this is an EXCLUSIVE CHANCE to get started breaking the unhealthy cycles that have been plaguing our community.
black health and fitness revolution: breaking unhealthy cycles challenge pack
only $11 today
[$104.97 Value]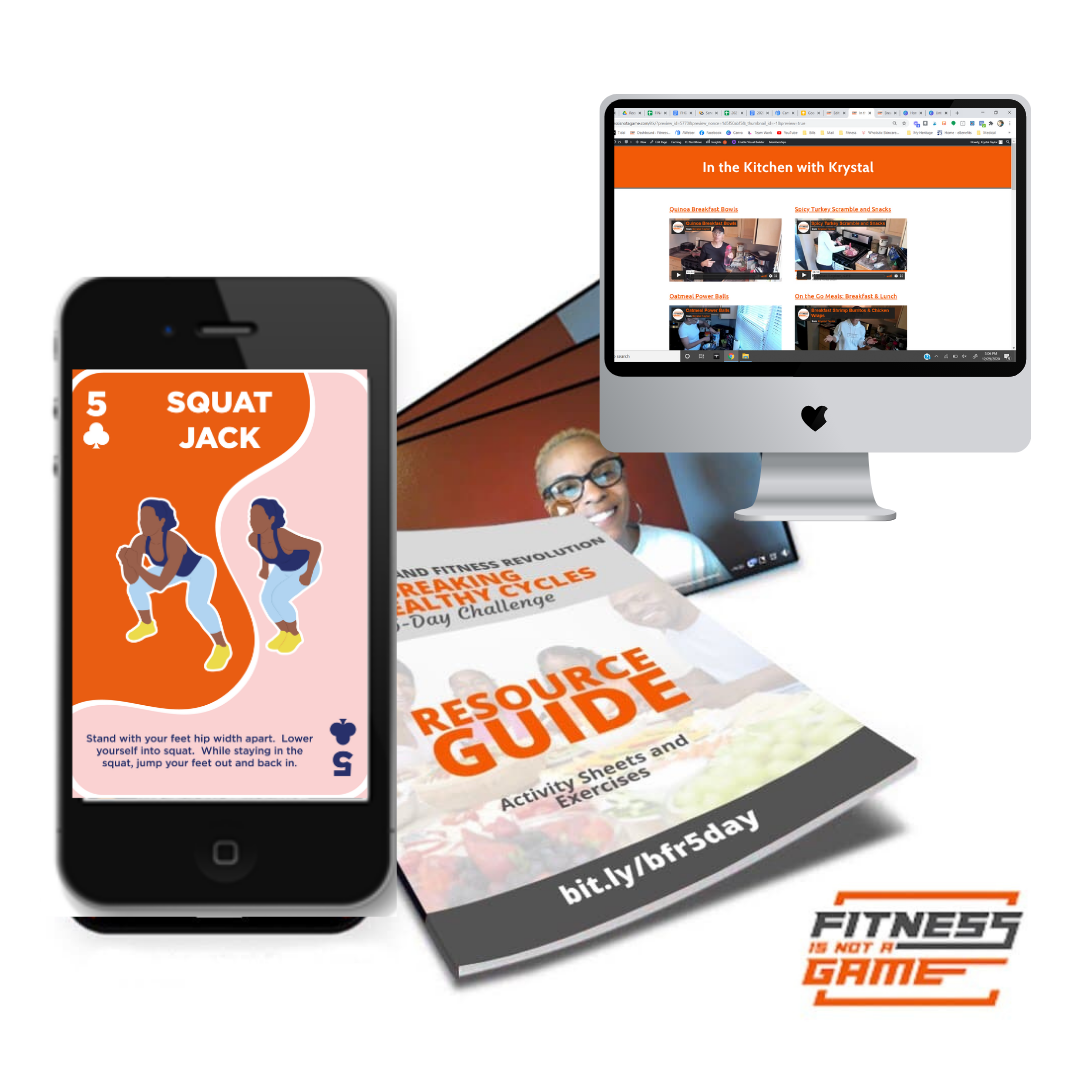 Image for visual representation only.  All items in the Challenge Pack are delivered digitally.
What's Included:
Challenge Resource Guide
(Value: $20)
Over 50 pages of:
Supplemental information for each Challenge day

Activities

Recipes

Logs
Fitness Is NOT A Game Virtual Playing Cards
(Value: $9.97)
Random workouts each time

No equipment needed

Accessible from phone, computer, and tablet
Lifetime Access to All Challenge Videos
(Value: $50)
Access to ALL videos after the Challenge ends

Catch up on any days you may have missed

Re-watch the videos that WOWed you
In the Kitchen with Krystal
(Value: $25)
10 videos to simplify meal prep and healthier meal options that aren't boring or bland.
Meals to eat on-the-go

Vegetarian Options

Snacks
This is an EXCLUSIVE offer to grab our Challenge Pack.
Once you click away, your exclusive offer for the Challenge Pack goes away.
Only $11 for a limited time!
Value: $104.97
The Breaking Unhealthy Cycles Challenge will be five days of jam-packed information curated to provide the information needed to make the first step towards changing our family's medical history.  By investing in the Challenge Pack, the Resource Guide will give you:
a dedicated area to keep your notes for each day's topics PLUS bonus information to dive deeper
your own copy of the charts and graphics presented during the discussions
some of my favorite "healthier" recipes to satisfy your belly, but still on track to your goals
a number of fitness-related games to also sharpen your mind (fitness isn't just about the body)
Have you stopped exercising because you:
don't have any equipment
are short on time
aren't sure what to do
get bored easily?
These are very common reasons and the Fitness Is NOT A Game Virtual Playing Cards solves all of those problems. Every time you use them, the workout is random so it's always a good time.  Since it's not a structured workout, you get to determine if you'll exercise for a certain amount of time, flip a certain number of cards, or complete the entire deck.  You're in control (sorta).  LOL.  And all exercises only require your body weight.
And let's not talk about the food. Well, let's!
Most people fall off of the healthy path because of how they eat. There's a horrible misconception that healthier food can't be good. So not true. I LOVE food so I'm sharing some of my favorite healthier meal options. On top of thinking that the food can't be food, a lot of folks just don't know what to make. I don't want you eating the same things like baked chicken/fish and steamed broccoli because you think that's the only way. It's not. With the In the Kitchen with Krystal videos, I'll give you options that you will love and feel good about eating.
The Challenge is sure to be five days of information that you'll want to review over and over.  Having lifetime access to all of the videos is an EXCELLENT opportunity to revisit the information that was presented during the Challenge in the future.
Please note: After the Challenge is over, ALL videos and summaries will be removed.
You will have immediate access to the Resource Guide, virtual cards, and In the Kitchen with Krystal videos.  They will also be emailed to you in case you misplace the link.
Once you click away, your exclusive offer for the Challenge Pack goes away.
what people are saying about krystal…
I will continue to work this challenge. Because I didn't get to this weight in a day I can't expect for it to fall off in a day. You continue to be a blessing to all you come in contact with. Have an amazing day on purpose!
– R.Y.
Thank you Coach Taylor thanks to the challenge I'm now two pounds away from my twenty pound goal. Most of all I'm not ruled by the scale. I'm motivated to keep going!
– L.B.
Your phenomenal energy, beautiful smile, and detail to helping others, has been a "bright star" in this critically dark pandemic!!! May God continue to Bless Your Family, Your Business and All The Families You Help!

💖

👏

🙏

👍

👋

☀️

🥰
– J.M.