Join SHIFT to Lose Weight and Get the Body You Want for just $149/mo
Registration for SHIFT is open now but the bonuses go away at 11:59pm CT Sunday, January 9
This is my proven health and fitness program! You'll get structured workouts, sample meal plans, group Q&A sessions, Live workouts, expert trainings, and access to the video library that includes hundreds of workout and training videos. You'll also get 15% OFF of everything in the online store.
Join and get the Fitness Is NOT A Game Jumpstart Pack FREE
Resistance Bands
Water Bottle
Moisture-Wicking Head Scarf
Towel
Tripod with Camera Remote
Measuring Tape
Motivational Magnets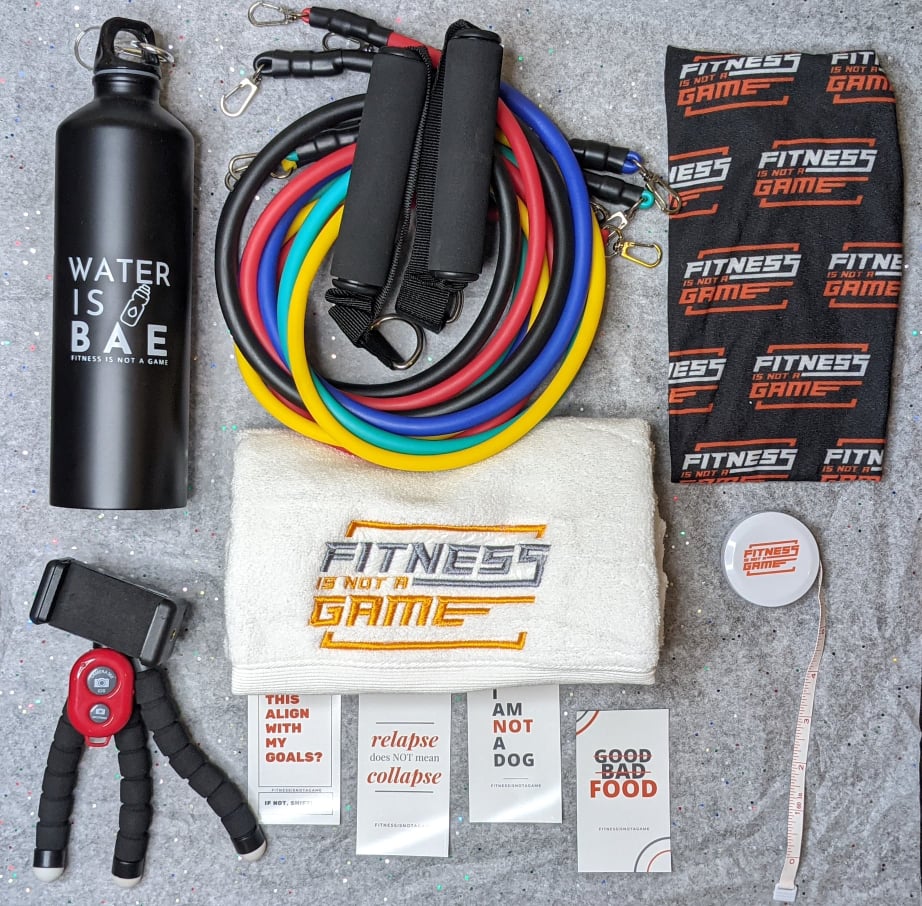 It will get you toned.  It will get you shaped.  It will give you life.
If you are truly looking to tone, shape or lose weight, I totally recommend Krystal Taylor. This lady here is the truth. Her meal plans are doable, the virtual exercises are a hit and it can be done in the comfort of your home or gym. I am in love with this virtual program. I started a few months ago and the change has been phenomenal… ladies and gents if you were like me walking in the gym excited but coming out an hour later feeling exhausted but unsure if your workout was making a difference…. I recommend you look up Krystal Taylor. Ladies, if you are tired of walking in the gym wondering what machine to use but too embarrassed to ask how, or don't know what machines to use, I recommend you look up Krystal Taylor's virtual workout. Its For Real!  It will get you toned.  It will get you shaped.  It will give you life. I thank you, Krystal, for giving me a life.
– S.B.
Not only did I lose pounds but I lost inches and I felt good about myself again.
The older I get, the more I realize how important it is to take better care of myself and to maintain a lifestyle of healthy living. The before & after pictures I took for the program really helped me to see what a significant change my body made. Not only did I lose pounds but I lost inches and I felt good about myself again. The meals provided were manageable and I never felt hungry. The workout plans were easily done in my basement with minimal equipment and was very effective.  Also if you are one of those (like myself) who is a lil nervous about getting in the gym just yet, this program will help you build your confidence up in the comfort of your own home and with guaranteed results!
– C.H.
Why is this PERFECT for you?
Did you know…
The average adult gains 1-2 pounds per year. It may not sound like a lot but that's a 20-pound difference in a decade.  That's why you may look so different in the pictures you took 10 years ago.  Like most people, you want to get your old body back (even though you probably thought you were too big back then, too).  The problem is that although the interest is there, you simply just don't know what to do or where to start.  That's why I'm here.
When you join the SHIFT Monthly Coaching program, you get continual support to help you lose weight and get healthier.  Everything you need is provided. 
You get:
* Meal plans
* Workout plans
* Group Q&A calls
* Live workouts
* Expert trainings
* Progress tracking
* and more…
All of this is included because being healthy isn't just about what you eat or how often you exercise.  We also dive into your relationship with food and your perspective on living a healthier lifestyle.